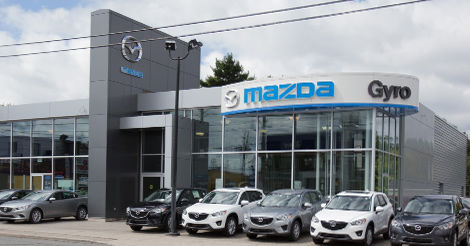 Welcome to Gyro Mazda

Your Mazda Dealer in Downtown Toronto
Welcome to Gyro Mazda, your number one Mazda dealership that has been servicing Downtown East Toronto with care and passion for over 45 years. At Gyro Mazda, you will find a complete inventory of quality new Mazda vehicles and pre-owned vehicles, as well as everything you need to keep your current Mazda in the best shape at our after-sales services department.
Located at 134 Laird Drive in Toronto, Gyro Mazda is the oldest Mazda dealership in the Toronto region. We are a family-owned business that has always strived to provide first and foremost the very best customer service experience whether you are a first-time buyer or a long-standing customer.
Some of our competitors may only wish to get the most Mazda vehicles out the door as soon as possible, but we feel that buying a new or pre-owned Mazda, or getting your Mazda serviced, should be a personalized experience where the focus is on you, the customer.
That is why everyone in the Gyro Mazda team, from our experienced sales representatives to our general managers, our service advisors, and our financial professionals, have only one objective in mind – that of offering you the very best quality in terms of our work and our customer-service experience.
To find out more about our lineup of brand-new Mazda vehicles or to book an appointment with one of our departments, contact us today at 1 416 850-6257 or online using the contact form through our website.
Get in touch today!