2015 Mazda CX-5: Utility Meets Fun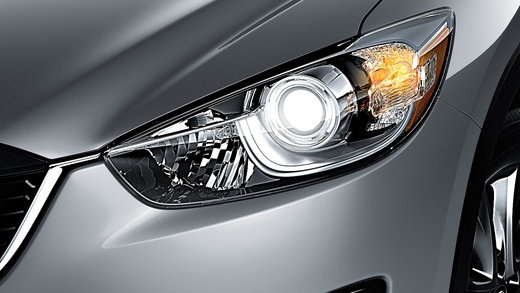 Thanks to a host of active safety features, SKYACTIV technology that makes the vehicle respond better yet offer better fuel economy, and a stunning design inspired by Mazda's KODO design philosophy, the Mazda CX-5 has it all, and that is why it is so popular.
Unveiled not so long ago, the Mazda CX-5 offers something for everyone. Base models come with front-wheel drive, while all-wheel drive models are also offered. There are two engines to choose from: a 2.0-liter four-cylinder SKYACTIV-G engine is standard while a more powerful 2.5-liter four-cylinder engine with SKYACTIV technology is optional. The first offers 155 horsepower and 150 lb-ft of torque and can be matted to either a six-speed manual or a six-speed automatic transmission, while the second offers 184 hp and 185 lb-ft of torque and comes only with at six-speed automatic transmission.
Both the engines and the transmissions incorporate Mazda's SKYACTIV technology. The idea behind SKYACTIV is to make sure every component runs as efficiently as possible in order to improve both performance and fuel economy. The engines, for example, have been reworked to offer better airflow, a higher compression ratio, and parts that work with less energy loss, all with the single goal in mind to make the engine simply run better. That means you get better response, improved accelerations, and because you are using less resources to achieve those goals, you also require less fuel.
Moreover, the transmissions have been designed to be lighter and more compact. Because weight is one of the most important elements in determining fuel economy, the lower the weight, the better the overall efficiency.
Inside the Mazda CX-5, buyers also get a refined interior that is both beautiful and useful. There are loads of storage spaces inside the CX-5, and the back seats are spacious for kids or adults. The same can be said upfront as the CX-5 offers plenty of head and elbow room. The seats are comfortable yet fully supportive on long drives. Should you decide to enjoy the CX-5's handling on a twisty road, Mazda's sport utility vehicle will keep you firmly in place, while also showcasing great steering dynamics that make it easy to know exactly what the vehicle is doing.
A few months ago, Mazda unveiled their new, unlimited mileage warranty which means that you can drive as many kilometers as you want and still be protected for the duration of each individual warranty. That is just another example of how Mazda is so unique in the automotive industry.
To learn more about the new Mazda CX-5, contact us today at Gyro Mazda!