2015 Mazda3: Enjoy the Drive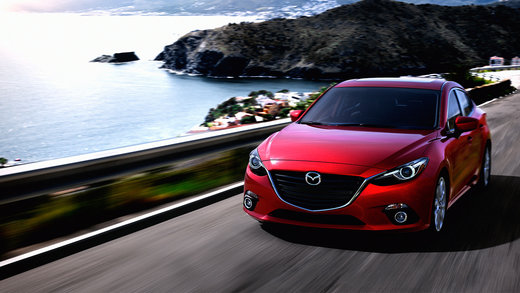 The car is clear demonstration that an affordable and fuel-efficient compact car can be beautiful, comfortable, and fun to drive. It is of no surprise that the authoritative Car and Driver magazine has placed the Mazda3 among its top 10 best cars, all categories - for both the 2014 and 2015 model years.
Inspired by the Kodo "soul of motion" design philosophy, the exterior look of the car is beautiful with its sloping front end, prominent grille, swept back headlights, pronounced side curves and a sculpted back end with an integrated spoiler. The interior is made of high-quality materials, front seats are comfortable and supportive and there is generous storage with deep door pockets, an enclosed bin between the front seats and a large glovebox.
The Mazda3 comes in three versions : GX, GS, and GT. Each can be obtained in either a 4-door sedan or a 5-door hatchback configuration. Both the Gx and GS are powered by a 2.0 L 4-cylinder SKYACTIV engine producing 155 hp and150 lb.-ft of torque. The GT gets the bigger 2.5 L 4-cylinder SKYACTIV engine generating 184 hp and180 lb.-ft of torque. The 2.0 L engine is coupled to a 6- speed manual transmission or to a 6-speed automatic. The 2.5 L has recently added a manual transmission to its offering as well and, of course, can be equipped with the automatic.
SKYACTIV technology, developed by Mazda, involves a global approach which includes ingenious refinements brought to the chassis, fuel delivery, engine, and transmission in order to increase overall performance and fuel economy. Indeed, fuel consumption is one of the best in the compact car category at 6.5/ 4.3 L per 100 km (city/highway) for the GX and GS, and 7.2/ 5.1 L per 100 km (city/highway) for the GT version.
The Mazda 3 comes very well equipped. Standard features include keyless entry, power windows, tilt and telescopic steering wheel, Blue tooth, steering wheel audio controls, push button start, and a USB port. Several options such as Navigation, blind spot monitoring, lane deviation and rear cross traffic warning systems, are also offered.
The Mazda 3 has several safety features including four-wheel discs with ABS - which gives Mazda's compact sedan one of the best stopping distances of all compact cars -, 6 airbags, as well as traction and stability control systems. There is also Mazda's i-Activesense system which includes blind-spot monitoring and lane-change warning, as noted above, as well as a host of other active safety features including adaptive cruise control.
As a combination of safety, performance, handling, and fuel-efficiency, no other compact car can match the 2015 Mazda3. Come learn more today at Gyro Mazda!