2015 Mazda6 : Canadian Car of the Year for a Reason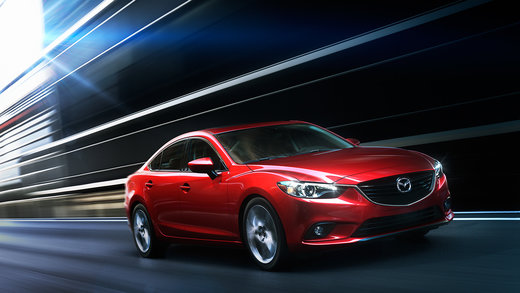 It's a great car for both those who like to drive and those who enjoy fuel efficiency. With its beautiful European design and stunning interior, along with its core personality that mixes fun and fuel economy, it's hard not to love the Mazda6.
There haven't been many changes brought to the Mazda6 this year, and that is to be expected as the car was completely redesigned in 2014. In order to make things easy for the consumer, there is only one engine offered on the Mazda6. We are talking about a 2.5L SKYACTIV-G four-cylinder engine that develops 184 horsepower and 185 lb-ft of torque. On the road, the engine feels alive and strong, and accelerating or passing is a breeze.
Better yet, fuel economy is impressive with a state fuel consumption rating of 8.8 liters per 100 kilometers in the city and 6.1 liters per 100 kilometers on the highway with the six-speed automatic transmission. A six-speed manual transmission is also offered and again, fuel-efficiency is key with the manual. Moreover, buyers can opt for Mazda's i-Eloop system that further improves fuel economy by using technology more often found on a hybrid vehicle, like regenerative braking to power the accessories, for example.
So how can the Mazda6 offer such impressive fuel economy? It all has to do with SKYACTIV technology which features a host of improvements made to the engine, the chassis, the transmissions, and the body in order to make things lighter, more compact, and to make sure everything runs smoother. In essence, Mazda engineers looked at the main components of a vehicle and made sure that everything was running as efficiently as it could. The end result is a car that wastes very little energy and that is also lighter, and that makes all the difference.
On the road, the Mazda6 feels solid and poised. When taking a turn at speed, it is hard not to love how communicative the steering is, and how quickly it responds to driver inputs. Inside the Mazda6, buyers get a beautiful interior that is also spacious and inviting. We like how the dashboard reminds us of a luxury German sedan, and how the materials and the overall quality of the interior can rival any other model in the midsize segment.
A heck of a lot of fun, the 2015 Mazda6 is also comfortable, and it will not burn you at the pump should you decide to enjoy it. Come in and drive the new 2015 Mazda6 today at Gyro Mazda!