2016 Mazda CX-3 is fun in a useful package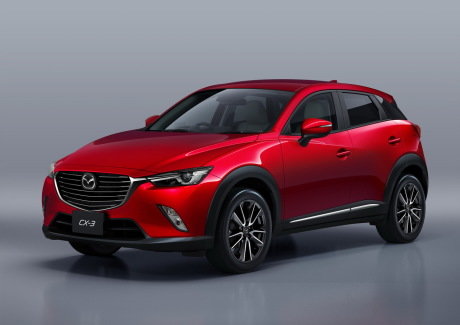 AJAC also designated the new Mazda CX-3 its Green Utility Vehicle of the Year. Why so many awards? It all starts with Mazda's DNA, and of course SKYACTIV technology.
SKYACTIV is at the heart the Mazda CX-3's success
The 2016 Mazda CX-3 basically combines everything one could want in a compact vehicle. It is fun to drive, fuel-efficient, agile in the city as well as on a winding road, and has enough cargo space to fulfill the needs of most buyers. It also happens to be affordable, starting at only $ 20,695.
Mazda, and consumers, have SKYACTIV technology to thank for allowing a vehicle that be both powerful and fuel-efficient. The 2016 Mazda CX-3 is powered by a 2.0-liter, four-cylinder engine that delivers 146 horsepower and 146 lb-ft of torque. Although powerful, the engine happens to be able to reach 6.7 litres per 100 kilometers of average fuel economy with front-wheel drive. Mazda's i-ACTIV all-wheel drive system is also available.
Plenty of space in the 2016 Mazda CX-3
When you step inside the Mazda CX-3, you will notice that the cabin is quite vast and the clean, uncluttered look of the dashboard and the interior as a whole is a sight to behold. Everything is easy to find and you will not spend too much time trying to figure Mazda's subcompact SUV's ergonomics and features.
There is plenty of room for your head and shoulders up front, and plenty of space as well for young passengers in the back. The cargo area can fit 452 liters with all seats in place, and 1 528 liters when the rear seats are folded down, ensuring that you always have plenty of space for anything you want to carry.
Offering keyless start and a rear-view camera even in the base model, the 2016 Mazda CX-3 also offers a host of optional features including Smart City Brake Support which monitors the road ahead thanks to an infra-red laser that can detect a vehicle or an object and help braking when there is a risk of an accident.
Finally, let's not forget that the 2016 Mazda CX-3 is, like all Mazda vehicles, backed by Canada's only unlimited mileage warranty.
To learn more about the 2016 Mazda CX-3, contact us today at Gyro Mazda!