2016 Mazda3: Come Check it Out in Toronto Today!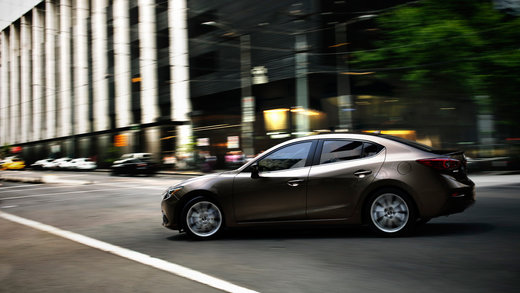 The 2016 Mazda3 is the perfect vehicle if you want a fuel-efficient compact sedan that also happens to be a pleasure to drive. Offering plenty of versions and plenty of engine and transmission choices, you'll also get Mazda's signature SKYACTIV technology, which means that you get all the performance you want without being punished when the time comes to fuel up in your vehicle.
The 2016 Mazda3 is Here in Toronto
There are two engines available in the 2016 Mazda3. The first is a four-cylinder, 2.0-liter SKYACTIV powerplant that delivers 155 horsepower and 150 lb-ft of torque. It can be mated to a six-speed automatic transmission or a six-speed manual if you prefer to handle gear changes yourself. Both transmissions also feature SKYACTIV technology in order to make them both lighter and more compact, thus reducing weight and improving their efficiency, which in turn translates to better fuel economy numbers.
If you want more power, you can turn to the 2.5-liter, four-cylinder engine that delivers 184 horsepower and that is offered in the Mazda3 GT. Again, this engine can be paired to either a six-speed manual or a six-speed automatic transmission, the latter getting paddle shifters to add a touch of sportiness.
Fuel economy numbers, regardless of the engine, are impressive. The 2016 Mazda3 can reach 5.7 liters per 100 kilometers with the base engine, and 5.9 liters per 100 kilometers with the GT model and i-Eloop technology.
To learn more about the 2016 Mazda3, contact us today at Gyro Mazda in Toronto!